Please just show up 15-min before class, registration is not needed online.
Workshop Registration
https://clients.mindbodyonline.com/asp/main_enroll.asp?fl=true&tabID=8
Click Here
Come 15-min before any class listed on the schedule to attend.
Bring your yoga mat otherwise we do have studio mats available here for free.
The classes are customized to you the practitioners, so in each class you both see and feel yourself getting better at your own practice in a style that is catered to you.
It's recommended to come early so to settle into your center for your series.
---
Our Studio Schedule.. All Classes are ALL LEVELS unless noted.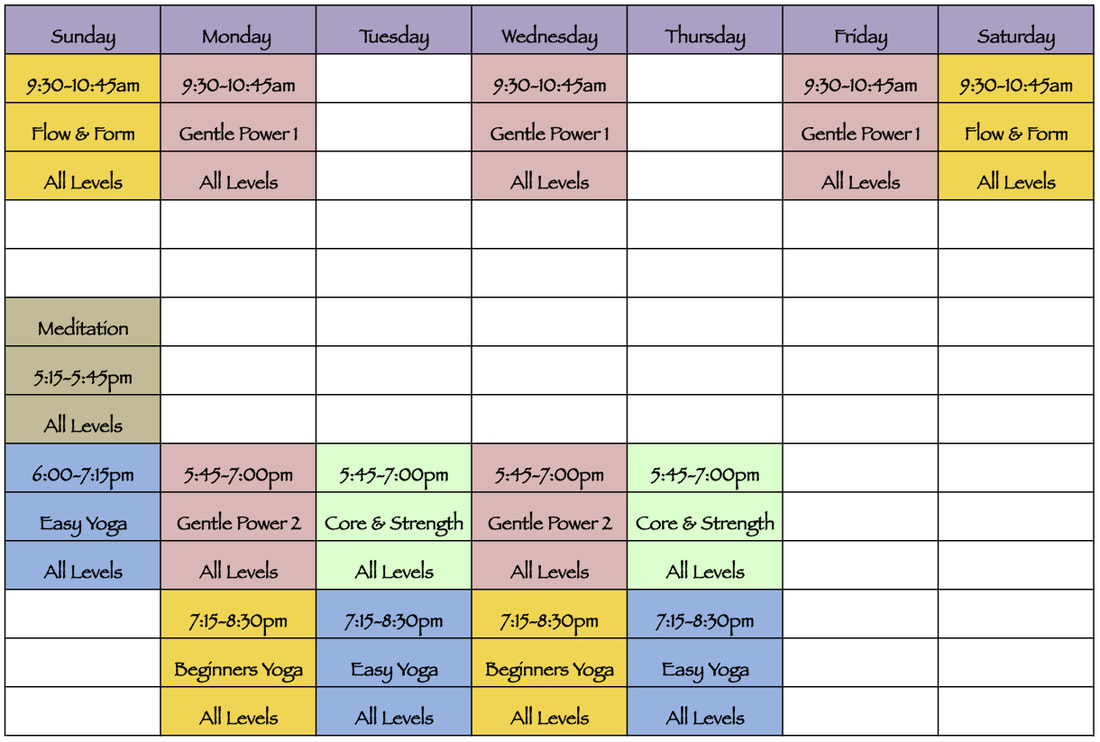 Beginners Yoga (All Levels) A class for all levels, for those who want step-by-step introduction with breathing and a practice that fits all levels of fitness ability. This is the BEST class to start with if you are just re-starting up your practice. It also is a developing class that you will be getting better in during each year practice.

Core & Strength (All Levels) This month of January you'll see a new yoga class scheduled called 'Core and Strength' this class will include special attention for those with shoulder injuries past or present. We'll take time for strength building shoulders, torsos, and legs, and rebuild your core so it's rock steady for you. A solid core comes from the inside out, and Gwen will teach you how to center there and move steadily from there. Once a core is fully established you'll be more likely to move from there for life, and major joints often heal once you know your core. This class is a 8-week emphasis on rebuilding core strength.
Like all classes, a minimum of twice a week is recommended in order to see progress.

Gentle Power The name Gentle-Power holds space for Gwen's therapeutics use of Yoga with the long range plan of full strength and power being restored to that person and their Yoga Practice. We will visit all forms appropriate to the student, level-1 is generally more accessible than the level-2 material which is the evening classes.

Flow and Form (All Levels) All-levels practice session, breathing, handstands, backbends, twists, and stronger postures will be in these sessions which are in addition to the Basics of Yoga classes, yet this class and all classes will always honor ALL LEVELS.The morning and evening series will be doable for even Beginner students!

Easy Yoga (All Levels –Pain and stiffness Reduction) A class built to renew the practitioner for life and the week. Pain reduction is included in these sessions by working with Soft-Tissue Rolling, Trigger Point Release, Yoga Props, Gentle and Light Yoga Movements, Reiki, Yin Yoga and Breathing to ease pain and release the holding of stress in the musculature and myofascial tissues.