Gwenivere Lovewell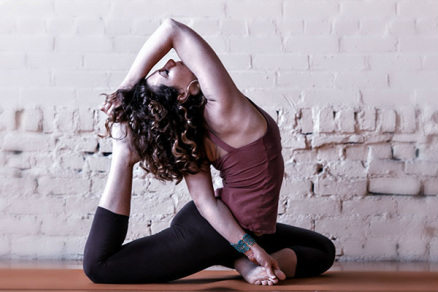 Gwen as of 2012 has over 3000 hrs in teaching yoga, people from all over the Boston area currently travel to study with her for her classes are multifaceted about life, yoga, alignment and created for the advancement of each student's practice. She started her education in 2002 after meeting her first teacher, from that year forward is was undeniable that she was indeed in love with the practice. She teaches warmhearted classes that bring awaking and potent currents of insight and she'll keep you challenged and invigorated in any pose while teaching greater alignment and personally advancing each student. Gwen works with the attendance of every class customizing it to fit the students needs and incorporates yoga therapeutics for students who need it. Gwen's classes range from warm, challenging and invigorating, to slow, mindful, restorative and technically based. She is big in applying yogic wisdom into our every day life for all we live real lives and yoga is such an aid in fully exploring, appreciating and enjoying it.

---
Liz Gawel

Liz first came to yoga over a decade ago after a friend suggested that it might help her chill out while also making her sweat, an intoxicating combination that had alluded her after many hours at the gym. After a few classes, she found the right fit and it's been a sweet relationship ever since. During this time, Liz has explored many different styles of yoga, but spent most of her time practicing Ashtanga-influenced vinyasa flow and then, after sustaining several yoga-related injuries, found her way to the precisely-aligned Anusara yoga. Liz studied closely under Karen Lane, a Las Vegas-based Anusara teacher, for several years and has nearly 200 hours of training in that method. Liz recently finished the Yoga Works 200-hour Teacher Training with the inspiring Natasha Rizopoulos, and has had the opportunity to study with some amazing teachers, including Ross Rayburn, Desiree Rumbaugh, Naime Jezzeny, Tzahi Moskovitz, Elena Brower, and Para Yoga teacher Sasha Larkin. Liz is a mother of two kids, two dogs, and two cats, who remind her every day that our yoga practice is not about what fancy poses we can do on our mats, but instead how we live our lives out in the real world. Aside from yoga and parenting, Liz is a nationally licensed massage therapist, a sometimes resident of Martha's Vineyard, and she aspires to someday be a more-than- decent cook.
---
Ben Chused

Ben was born and raised in Washington, DC. After spending the 1990s as a musician playing in various punk/hardcore bands, and the early 2000s playing way too much poker while living in Las Vegas, he began practicing yoga in 2006. Since discovering yoga, he has been influenced by a wide variety of styles including both Ashtanga and Anusara. Ben completed his 200-hour teacher training in the YogaWorks method under the instruction of Natasha Rizopoulos. He teaches a fun, rigorous vinyasa flow class that will challenge any level of practitioner. Off the mat, Ben enjoys vegetarian food, technology, pets, vacations, fantasy football, and spending time with his beautiful wife and two young children. Ben holds an undergraduate degree in business from Northeastern University and an MBA from Babson College.

---
Erin McCoy

Erin came to yoga 12 years ago to find some semblance of balance in
her life as she embarked upon her career in the field of mental
health. It took her a long time to truly embrace the healing aspects
and teachings of yoga, but once she did, she never looked back. Her
classes combine an alignment-focused flow that emphasize matching
breath with movement. Erin's classes are spiritually grounded with
room for laughter and lightness. Erin received her 200-hour RYT in
Vinyasa Yoga from The Sacred Seeds Yoga School under the Divine Jacqui
Bonwell and David Vendetti. They along with Pat Donaher, Jene' Rossi,
and Todd Skoglund, and her dedicated students continue to teach her
along her journey. Erin is also a Certified Reiki II healer.
---