Shiva Shakti Yoga Center -Waltham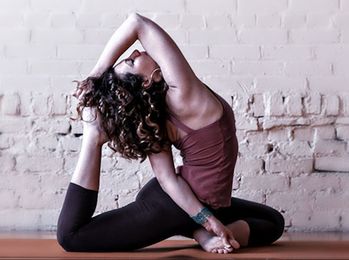 Gwenivere Eve Lovewell
SSYC Studio Director, Movement Analyst, Personalized Yoga Teacher, Facilitated Yoga Practitioner, Thai Yoga Practitioner, and Reiki Level-3 Master
Gwenivere Lovewell might be what you call a Gentle-Power Yoga Instructor and has been fully involved in yoga since 2002, teaching yoga actively to mixed level populations since 2006 and a full-time yoga teacher since 2010.

She teaches public yoga classes at her studio Shiva Shakti in Waltham, MA since June 2010. While also traveling the area to teach live and in person programs of joint recovery with steady and progressive yoga techniques to the great success of her students.

T
hose who actively seek her out are looking to use yoga to heal old injuries, come out of joint restriction, joint pain, chronic stiffness, sciaticia or other chronic pain conditions, in which yoga may be used to reverse or prevent the need for surgery or pain-killers.
She comes from a Therapeutic and Holistic approach to this practice and teaches 'Yoga for the Real Body' ever adapting the class material to help solve her students soft-tissue or joint specific needs.
The name Gentle-Power holds space for Gwen's therapeutics use of Yoga with the long range plan of Full Strength and Power being Restored to that person and their Yoga Practice.
Boston Voyager Story
Testimonials for Gwen's Teaching... Over 10-yrs of Stellar Reviews and Personal Connection
Your crew were all strong and had beautiful practices- they have a great teacher in you! -SaraRose
You've created an amazing space that is supportive, inclusively spiritual, and welcoming! I've been able to achieve poses and enlightenment in your studio that I've been unable to anywhere else. -Coco
Thanks for your excellent teaching and yoga classes - over the years, I have tried many classes in terms of exercise and more recently yoga classes and yours are the first I have stick with. Of course, people seek yoga for different reasons -- and for me it provides an hour of peacefulness in an otherwise hectic schedule and a way to get stronger. Right now, I think of myself as a bit beyond beginner, but not really ready for everything in the Level1/Level 2 classes -- although this seems to work fine since you are excellent at making space for everyone in your classes. -Deborah
I meant to say when I first saw you today is Thank You for all you do for me and express how much I am going to miss taking your classes when I leave. Yoga and Shiva Shakti have been on my mind. I will not be moving for another month or so, but of all the things I have come to love about this town, I think I'll miss Shiva Shakti the most. I have never had an instructor like you before. I have learned so much in the short time I have been there and I know I could learn so much more if I could stay. -Jeane
It's been 2 years for me since Gwen introduced me to yoga and I can't be grateful enough for that. Every time practice makes me a happier person.

Gwen - the owner of the studio - is a wonderful yoga teacher and an awesome person who puts her heart into what she does.
Not only she teaches beautiful postures and proper breathing, she also inspires people for greatness and lights up their eyes. Every single class is filled with positive energy, enthusiasm and happiness.

That's why I love Shiva Shakti!! –Irena
My first experience with Yoga, Gwen is Thoughtful and receptive to the needs of the class. –John
I've never smiled so much in a yoga class. -Blossom
I have never practiced yoga before and didn't know exactly what to expect. I had a sense that it would be relaxing and challenging, but i never expected that both could come in a complete and whole package.

In the beginners class, our instructor took us through wide range of stretches which included one stretch where we worked with a partner. In several of these positions, I felt my body and muscles move in ways I never have before. We were instructed to "bring our body to a new area or dimension" with each class. Basically - to teach and enable our bodies to move safely in a way they have never moved before.

I was so impressed with how easily our instructor was able to explain what we should do and how to enable us to go further. Sure, there were a few times where I was lost but I had imagined that this is what my entire first class would be like. It was such a pleasant surprise to find what I was capable of doing and what I never knew I could! 

The atmosphere is slow paced and relaxing, at some points of the stretches I could have fallen asleep while at other points my whole body would shake to maintain the pose! I can honestly say that my body had a great workout. This workout was nothing like the cardio that I am used to, but my muscles feel like it could have been! –Monica
My husband has noticed a radiance about me since starting practice. -Maureen
Love love love Shiva Shakti. I attended my first ever yoga class at this studio about 2 months ago. I expected to be intimidated and self-conscious at my first class, but this was not at all the case. Shiva Shakti is a very warm and welcoming environment. 

Being so new to yoga, I am surprised at how comfortable I am getting with certain poses, and I attribute that to Gwens teaching style. Even if there are a lot of students in a class, she manages to pay attention to everyone and really guide each person through the session. 
Much love to this place. –Kristin
This is a very large and beautiful space. I took my first class yesterday with Gwen and she is such a warm hearted, wonderful teacher. I say teacher instead of "instructor" because she did way more than instruct us through a class.

She listened to our needs, and built the class around us as individuals adn created a class that was wonderful. She "taught" us more about how bodies, and how to open and release tension in the areas we are all so tight in.

I can't wait to go back! –Christopher
I found this place after trying several yoga studios in the area. I was happily surprised to find such a wonderful place! Gwen is the owner and instructor for some of the classes. She is what makes this place so special. When she teaches she really tries to get to know everyone in the class (if she doesnt know you already:) and tailor the class to the students needs. So you know that no matter what time slot or class you show up to you will be getting what you need! Gwen also likes to have a theme to class which I love. It creates an atmosphere that is comfortable. I am not what I would consider a yogi so sometimes instructors can be intimidating but gwen makes class seem like a conversation with an old friend :) I will continue to go to this studio even after my deal runs out. 

The space is also beautiful and very inviting! –Melissa
Relaxing, conducive setting. Generally plenty of room (though some classes can get a bit crowded). All around excellent yoga venue. –Ora
This is a fantastic yoga studio. Gwen is a wonderful person and a wonderful instructor. The yoga classes are challenging, rewarding, satisfying, fun - both physically and mentally. The space is great too. I highly recommend for all levels. –Kate
This was my first group yoga experience and I felt very comfortable. The instructors have changed up the workout every day I've been there, which has kept it interesting. The studio is very nice and has all of the extra equipment that you need. Gwen has inspired me to try things I felt weren't possible before. She does modify her classes to the attendees and tries to accommodate all ranges of skill sets. I highly recommend Shiva Shakti. -Matthew
I went to the Monday night 'slow yoga' class with Meghan and it was excellent. 'Slow yoga' might give you the idea that it's easy, but it's not at all. Instead, this class focuses on really getting into to the positions and stretching in them while moving slowly through Vinyasa flows. I really enjoyed the pace of this class and felt like I got an awesome workout from pushing myself in each pose.

This is a great studio--HUGE room that feels very warm (both aesthetically and temperature-wise) and not crowded. It's nice to have a big waiting area as well to hang out before class starts. I live in Cambridge so it's a bit out of my way but I really enjoyed my experience and would definitely come back. –Katie
I've taken many yoga classes but never remember receiving such wonderful attention and positive encouragement as I did at Shiva Shakti.
Gwen's gentle, caring approach helped me feel comfortable as well as challenged (in a good way!). For example, prior to class, Gwen had asked the students if there were any areas that they'd like to focus on and made sure we addressed them in class.
Gwen's adjustments were very effective and her guidance was clear and personalized. Gwen provided a nice variety of postures, inspired by different yoga styles, primarily Anusara.
The studio was welcoming, spacious, clean and well kept. Visiting from out of town, I found the location of the studio to be very convenient. Parking was plentiful and easy ; after 6pm, the parking is free.
I felt so refreshed after I left. I will drop in everytime I come to the Waltham area! I recommend Shiva Shakti to locals and out of town visitors, as well. –Jane
Awesome yoga studio. I take classes with Gwen, she is so attentive. 
She encourages you, is very mindful of your poses and assists you with alignment. 
So far in 2 classes I have been able to pop into a wheel and handstand, both of which I was leery to do in my other classes. I have been practicing regularly for 3 months. 
There is plenty of parking and the location is nice and quiet. She just opened so classes aren't crowded which is a huge perk in my book. I get really anxious when classes are mat-on-top-of-mat and the person next to me's back sweat is gliding onto my mat.... Megan
Shiva Shakti Yoga Center is a sun-filled healing center with gleaming hardwood floors, a beautiful gathering space with over-stuffed comfy couches and chairs, and welcoming teachers. A focus on alignment and heart-centered joy makes each class splendiferous! –Diana
I love the teacher and the space. Gwen is a most wonderful teacher. I am a beginner to yoga, she always makes me very comfortable to practice to the level that I can handle and push me further more without give me pressures. I would say every class that I've been to is more than just doing yoga. I feel so relaxed and refreshed after every single class. –Jean
A great teacher in a beautiful studio with easy parking in the side street lots. Gwen both challenged me and made me feel at ease. A wonderful experience!! -Deborah
Trace, something happened -- I took a class at Shiva Shakti on Moody Street yesterday during my lunch break, and I don't ever want to take another class in the style we learned to teach in, ever again. Oh my lord -- Tracy, you have to try Gwen's class. My body has been opened in ways I didn't know were possible. I can't even describe to you... It started with a tennis ball... She had us roll on it in the crease of our hip, and she said this sometimes releases your psoas, in an instant. As soon as she mentioned the psoas, I knew I was in for a treat! It's not as much of a flow as what we do, but it's incredibly focused on anatomy -- it's as though she were a doctor in a past career! -- and you get into your muscles and joints deeply. Just for example, she taught us to do strenuous exhales "into our low belly and pelvis." I'm sure I've heard HYP teachers say this before, but Gwen actually demonstrated for us, explaining that these are extremely deep areas of the body and that the only way she's been able to access these muscles effectively is to exhale so deeply, she almost makes animal sounds. We focused on hips and backbends. Tracy, backbends are, like, my thing, you know? And yet no teacher has ever gotten me into position like Gwen did. –Barbara
Love this and love all you are doing!!! Can't wait for the day I get to your gorgeous shining center! -Anjali
Gwen is a powerful and intuitive healer and knowledgeable and fluid yoga instructor. I have practiced with her for several months now and have experienced a shift in my practice and my body. Her facilitated stretch sessions are amazing! If you are working through any injury or "stuckness" in any aspect of your yoga or your life, she will help you to create opening and movement. In short, working with Gwen will make you feel GOOD!!
Beautiful practice, Thank You Gwen (and Luna) Namaste
The most unique and authentic yoga experience i've been a part of.
So glad I have found such a great studio to get back into yoga... Loving it!
"I feel like a ballerina" age 68 woman post just 1-hour class together!
"Thank for all you do to attend to the needs of all of the people in your classes. You are a fabulous instructor!
'You are great for my soul too with doing yoga I have made things happen in my life that I did not think were ever possible you run such an amazing space and I always have loved the energy even when I am exhausted I just have to be there. Otherwise I feel like I am missing something.'
---